The number of battery electric vehicles (BEVs) and thus the expansion of the charging infrastructure are rising continuously. It is estimated that more than half of all vehicles will be powered by electricity in the next decade. The increased demand and intensified competition are increasing the pressure that producers can no longer withstand without flexible and scalable production.
An electric machine (e-motor) consists of three main assemblies, the rotor, the rotating part of the machine, the stator, the stationary part consisting of a laminated core and the housing, which is used to fix the stator. The motor housing is often manufactured using the die-casting process with subsequent metal-cutting finishing. Individual production processes of the electric motor run in compliance with strict regulations and standards. With our software solution, you can keep pace with developments in the electric mobility industry, create end-to-end traceability and optimize your production processes.
From the first step of the manufacturing process, the laminated core assembly, the iTAC.MOM.Suite supports the production of the electric motor. The initial components here are the rotor, stator, laminated core, winding wire, rotor shaft (mechanical production) and housing. In addition to the mapping of the individual components in the system, the motor housing production also runs in an automated and digitized manner using the die casting process (or other casting processes) and is monitored by our MES/MOM solution.
iTAC.MOM.Suite in the manufacturing process of an electric motor
By implementing a Manufacturing Operations Management, the quality requirements for rotor and stator laminated core assembly can be fulfilled in compliance with the DIN EN 10106 and DIN EN 10342 standards. The further process steps from stator production to rotor production to final assembly of all components with subsequent electrical testing are also mapped in the solution. Once the production of the electric motor is completed, it is inserted into a system with additional components, including the electronic control system. The use of the iTAC.MOM.Suite supports manufacturers in coordinating these parallel processes, which may run cross-plant.
In the production process of an electric motor, it makes sense to pay particular attention to predictive planning, as this not only monitors the actual state of production, but also predicts the production KPIs. With iTAC's analytics solutions, you can intervene in the process to avoid errors and increase output.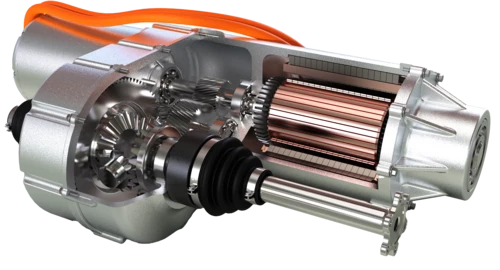 Optimized production planning (APS) based on actual and limited capacities

Process control and mapping of the entire production process in one solution (end-to-end)

Continuous traceability of all production steps

Compliance with quality and performance characteristics

Transparency in production with both business intelligence and real-time dashboarding

Full compliance with all standards and requirements (production compliance)

Exploitation of optimization potentials in increasing productivity through optimized production processes

Application of data analytics tools for predictive control of production processes