Medical Engineering – MES/MOM solution for quality assurance
In medical technology manufacturing companies, products are developed and manufactured that are used for the prevention, diagnosis and therapy of diseases. The production is subject to strict regulations and requirements, which is why quality assurance plays a prominent role in MedTech industries. In addition, the demand for medical technology products is increasing, which further increases the competitive pressure. The iTAC.MOM.Suite supports manufacturers in meeting the specific requirements of the market, from material delivery through production and testing to finally the shipping of goods.
The documentation of production processes and compliance with production specifications represent one of the greatest challenges in FDA-regulated manufacturing companies. Among other things, the requirements stipulate detailed documentation of all production-relevant processes and specifications, which involves a great deal of effort, especially in multi-stage and complex manufacturing processes. The exact requirements are defined in FDA cGMP, 21 CFR Part 11 and 820, and further standards and guidelines are laid down in ISO EN13485. The latter refers to comprehensive quality management of medical devices. CFR 21 Part 11 indicates how electronic records and signatures are to be handled.
In addition, the guidelines of GMP (Good Manufacturing Practice) apply, which prescribe the assurance of quality throughout the production process.Implementing these requirements ensures that each individual item produced corresponds to the last change status of planning. Therefore, BOM (bill of material) data and work plan from the ERP system, test plans from engineering, and work instructions and specifications from the document management system are combined for each product in the so-called Device Master Record (DMR). For all these requirements, paper-based documentation methods are possible, but highly time-consuming, expensive, and error-prone.
Receive further details in our White Paper
Our White Paper "MES for MedTech" outlines the benefits of implementing an MES/MOM solution in MedTech companies in detail and with concrete examples. Fill out the form below to receive the full document!
iTAC.MOM.Suite in Medical Manufacturing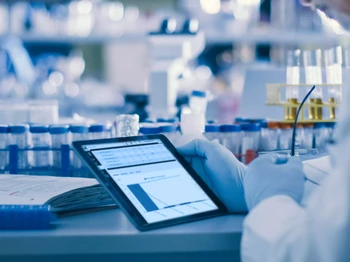 MES/MOM solutions are used in production facilities in the pharmaceutical and medical industries to meet the specific requirements of international and national standards and guidelines, to satisfy the demands for complete documentation and traceability, and to provide the market with a flawless and safe product.
In the iTAC.MOM.Suite, BOM data and work schedules from the ERP system, work steps (such as assembly, testing, quality control, quality assurance, finishing & packaging), and specifications for each product are compiled into a Device Master Record (DMR). Specifications listed in the DMR include, for example, the bill of material, work plan, recipe, tools, employee qualifications, test plan, and operator guidance.
The documentation of the actual production processes for each individual item, i.e. the creation of a Device History Record (DHR), is also essential. Both DMR and DHR are created by the iTAC.MOM.Suite, making laborious, paper-based data collection, which is highly prone to errors, obsolete. Every process step, calibration and measurement data are taken directly from the respective systems and compared to the DMR. This ensures that the product is built according to specification.
In addition to absolute FDA conformity throughout the entire production process, seamless traceability is one of the most important goals for compliant production of medical devices. With Active Traceability, the iTAC.MOM.Suite ensures that quality problems in the production processes can be detected in real time, causes can be analyzed, and remedial actions can be evaluated systematically and promptly in a continuous improvement process.

Full compliance with all standards and requirements (ISO standard 13485, FDA cGMP, 21 CFR Part 11 and 820)

Implementation of paperless production and therefore enormous cost and time savings

Reduction of compliance costs with regard to FDA requirements

Complete production history with fully electronic DHR and electronic signature

Full transparency of the production process in real time

Active traceability: batch and serial number tracking across all production stages (end-to-end)

Prevention strategies through setup verification (no use of incorrect, defective or blocked components)

Process security through process interlocking

Worker management and release workflow