The unique challenges in the injection molding industry require a special MOM solution. iTAC Software has integrated all the important functionalities for this particular industry into its software and is able to meet the challenges that come with injection molding machines and the related manufacturing processes. Learn more about the challenges and how the implementation of the iTAC.MOM.Suite benefits your production.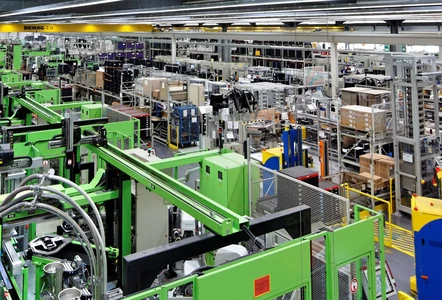 High standards with respect to quality and reliability are ever more important in the injection molding industry. The machines must handle complex molding structures which come in small batch sizes. Increasing requirements in the manufacturing processes and constantly growing innovation pressure leads to a fast-paced industry with a high level of production utilization. Additionally, just in time reporting and documentation strengthens the already strict requirements for the injection molding industry.
In order to be able to meet these challenges, real-time monitoring and control of the production are essential. By implementing a comprehensive MOM solution the manufacturing company can always keep track of their production processes and react quickly and flexible to every customer need. This is where the iTAC.MOM.Suite comes in.

iTAC.MOM.Suite in Injection Molding
Complex workflows and strict regulations are daily challenges in the injection molding industry. By using a smart IT solution such as the iTAC.MOM.Suite, these challenges can be met and moreover, there are numerous other benefits by implementing a comprehensive MOM. The use of the software allows for a holistic view of the entire production and helps to overcome all challenges facing the injection molding industry. It provides a real-time insight into all production processes and displays important key performance indicators that help to optimize prevailing efficiency and productivity.
Real-time production planning
Measurable savings for injection molders
Easy administration
Transparency and control of production
Quality control during the manufacturing process
Alert management
Improved and optimized workflow
Would you like further information?
Find out more about the many possibilities of the iTAC.MOM.Suite in the area of injection molding. Contact our team of specialists with a broad spectrum of knowledge and expertise to discuss your requirements and how we can help you!